The EGRV DISC Gravel is a ride hard engineered to tackle the roughest of trails. Its integrated battery and motor system has been developed with the latest technology, designed to enhance riding performance and deliver a direct experience for both road and gravel cycling. With a Shimano Ultegra 11-Speed drivetrain at its core, this gravel-optimized ride shifts through its gears with efficiency to conquer steep climbs. Equipped with Shimano hydraulic disc brakes to control your momentum. This speedy gravel e-bike rolls on Mavic Aksium Elite wheels wrapped in WTB Riddler tyres for exceptional stability.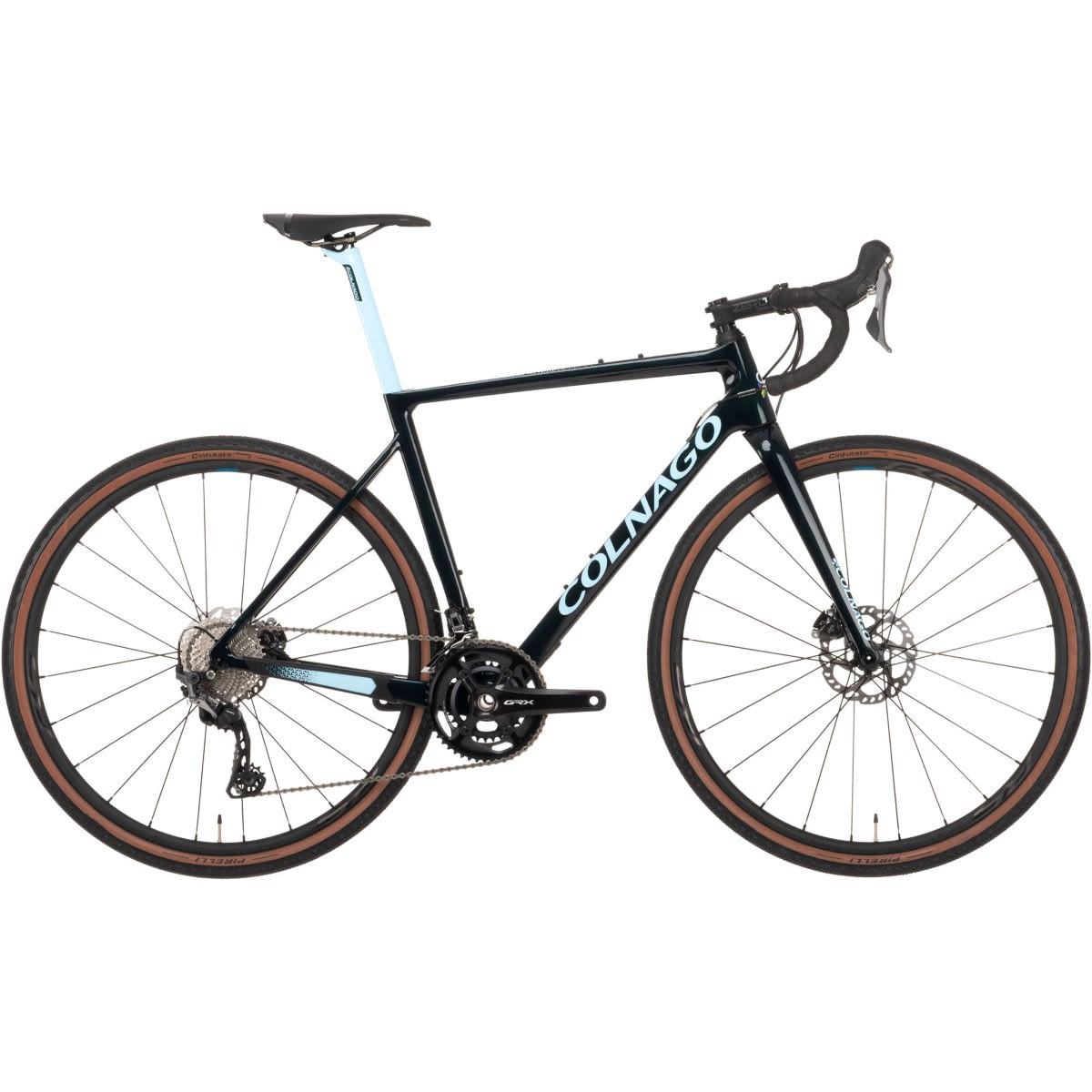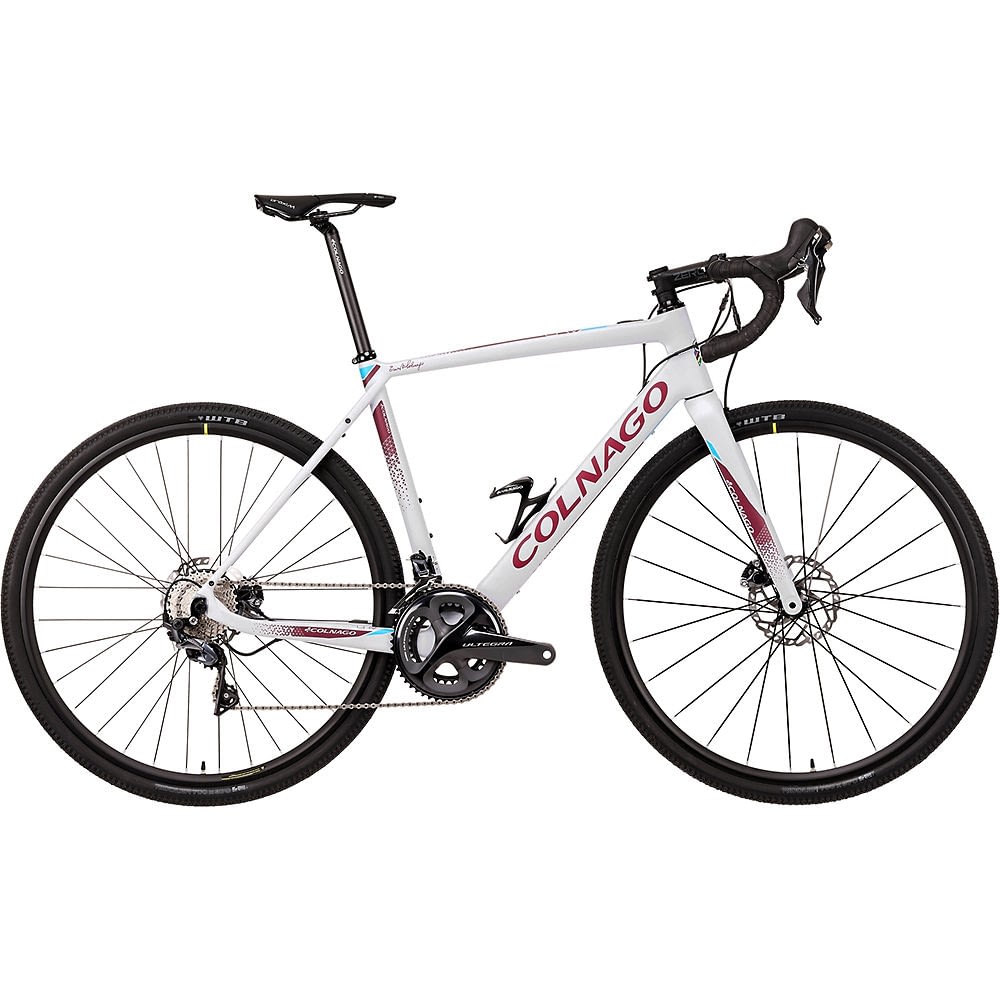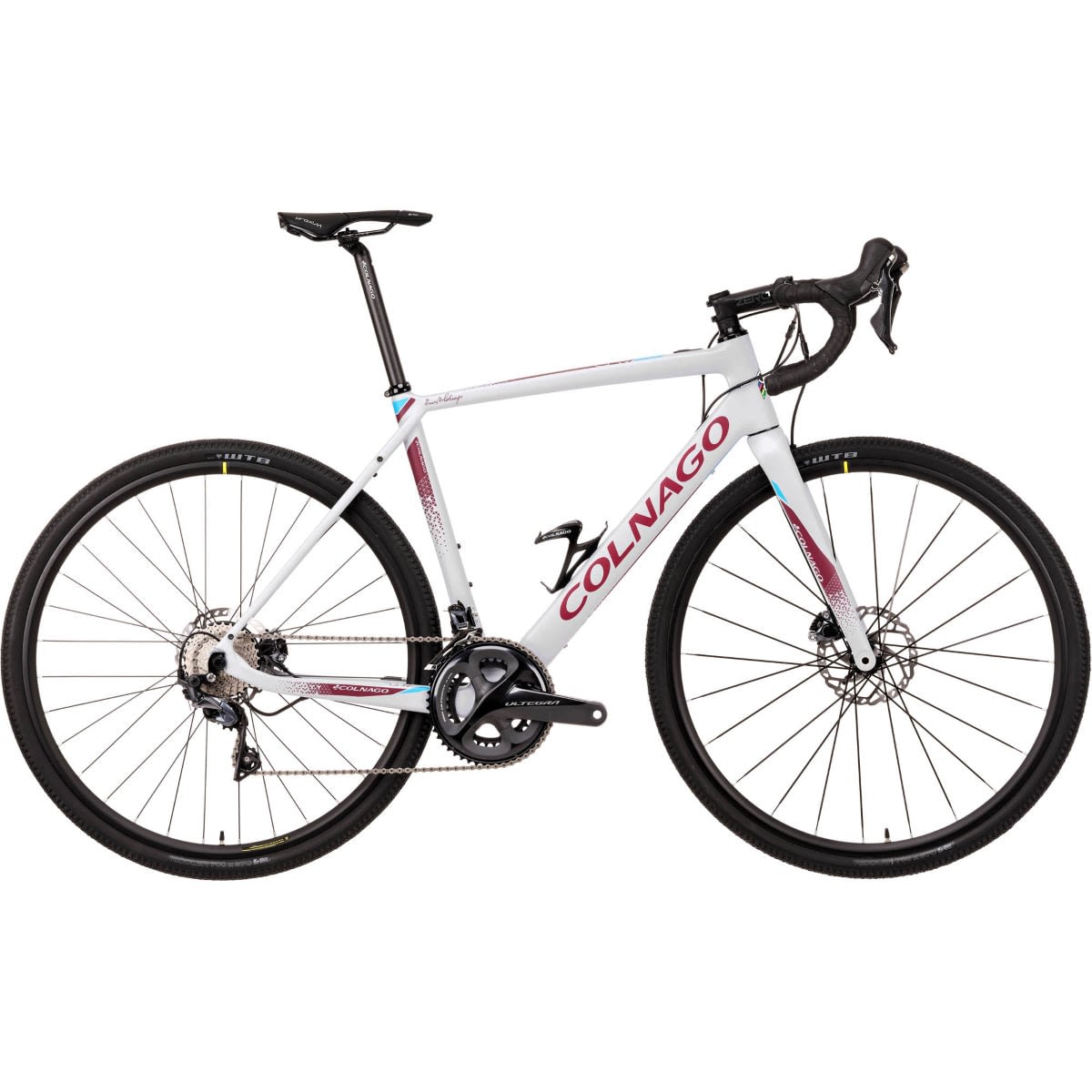 Want to ride further and faster than ever before? The Colnago EGRV disc gravel e-bike boasts an impressive range of 70km with support at 250W, rising to 500W making it perfect for tackling longer gravel road rides. The EGRV uses Shimano's excellent Ultegra 11-Speed drivetrain paired with hydraulic disc brakes for enhanced stopping power when descending technical terrain. It rolls on Mavic Aksium Elite wheels wrapped in WTB Riddler tyres which provide exceptional stability and grip in all conditions.
The latest Colnago EGR disc gravel e-bike is the pinnacle of the company's minimalistic design philosophy. With this EGR, you can choose between two power levels; Utilising pure pedal power with its Shimano Ultegra Di2 electronic gear system at the core of the frame or by adding its pedal-assisted motor drive system to reach up to 28mph (45km/h). The latter option integrates the battery into the frame, resulting in a lower centre of gravity, reduced drag and further increased stability.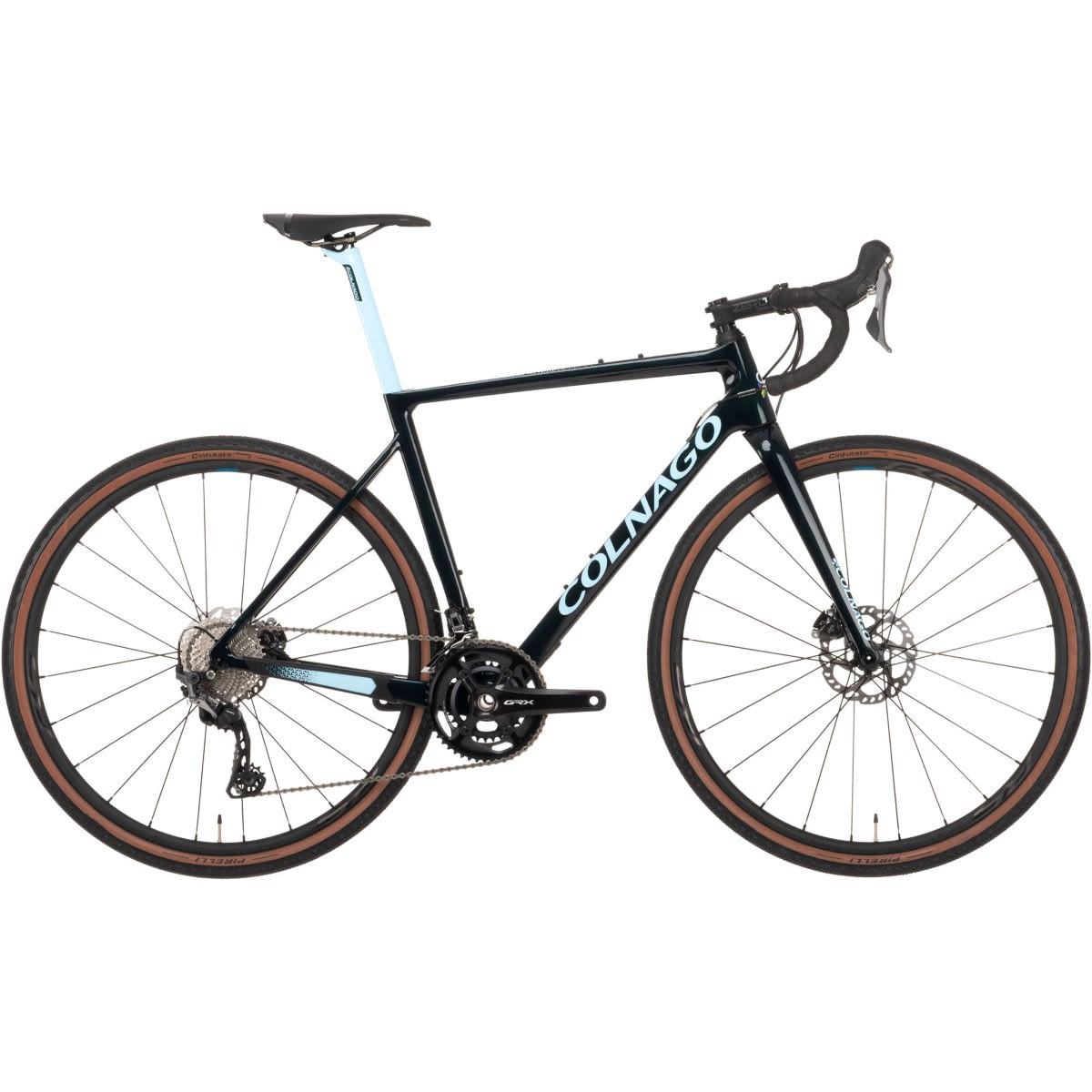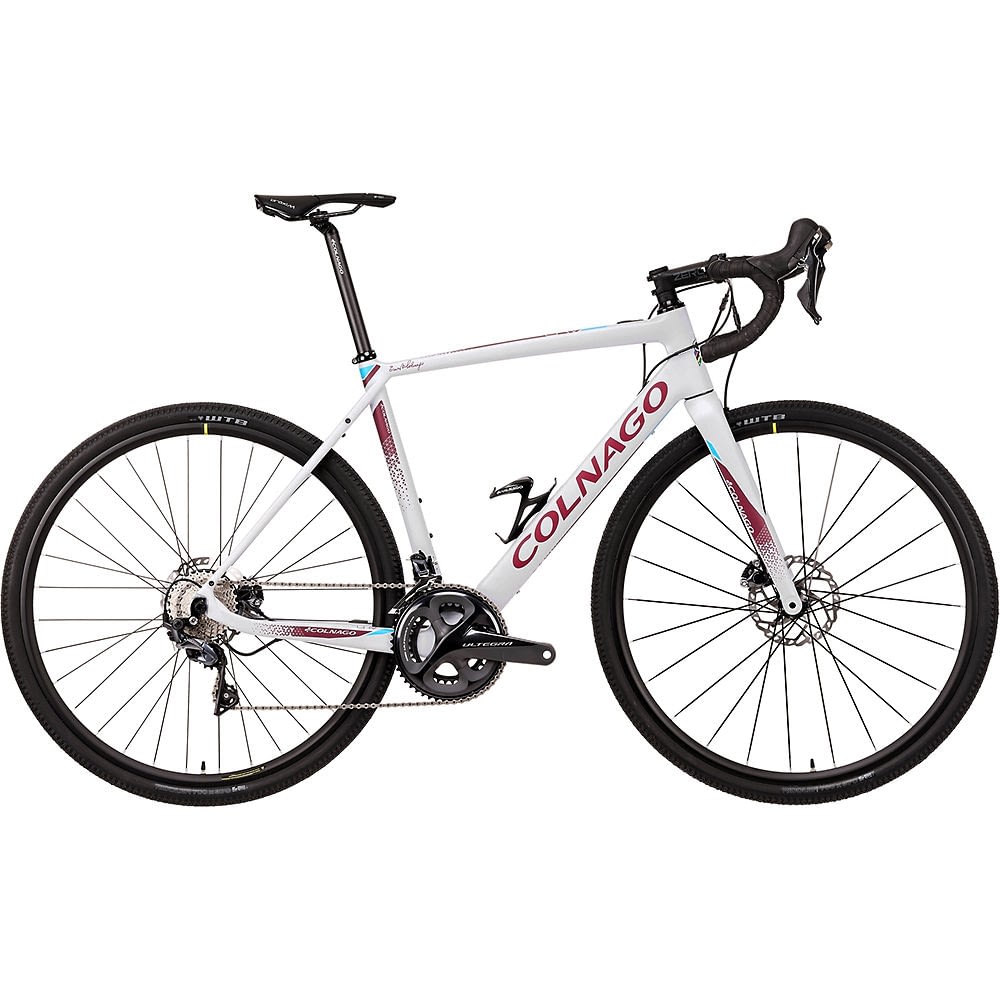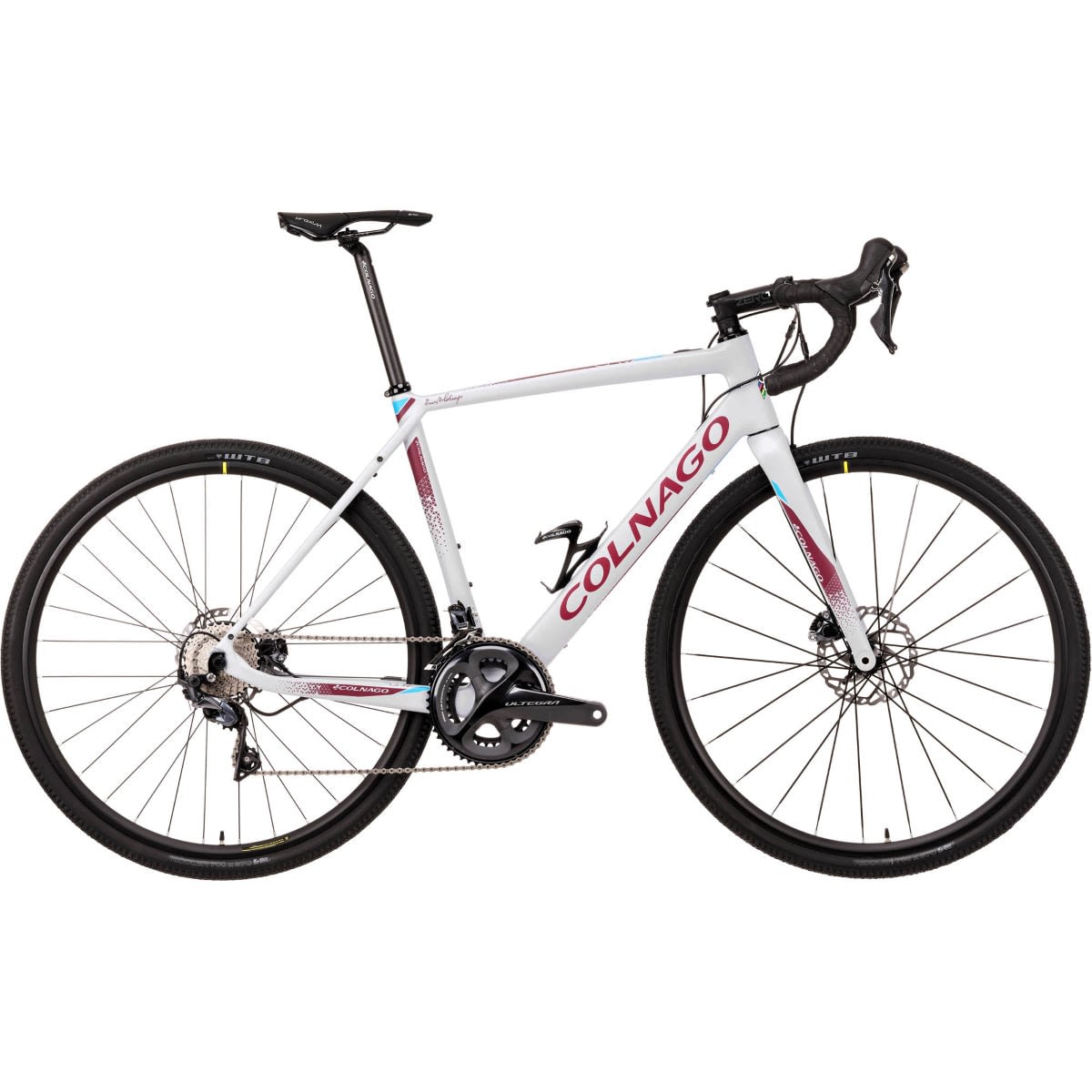 Colnago's carbon fibre bike's downtube features a state of the art battery to enable easier integration into the bike for a slimmer profile. Additionally, the downtube houses the electronics that power this bike's pedal-assisted motor drive system to assist you with a smooth ride. Ensure your rides are quick and efficient with a Shimano drivetrain. Mavic Aksium elite wheels wrapped in WTB Riddler tyres will let you roll over any road condition while staying stable to maximize efficiency. These wheels ensure comfort and safety on your rides. And finally, hydraulic disc brakes allow you to scrub your speed so you can control the ride with ease.
Timed to perfection, this Colnago EGRV disc commuter is primed to blow by. This pedal-assisted E-bike uses its Shimano Ultegra 11-Speed drivetrain to conquer the steep climbs. Lightweight and powerful Shimano hydraulic disc brakes provide stopping power for a safe descent. Get a full range of gears with a Shimano Ultegra 11-Speed drivetrain at your fingertips. A blend of gravel and road bikes, the Colnago EGRV's carbon frame is designed with disc brakes for carving through inclines with ease.
Welcome to the future. The Colnago EGRV Disc is specially designed for roads that are in bad condition, or where you want to ride in a dress. It comes in three sizes, in clincher or tubular format. Its smooth pedalling is powered by a lightweight 250W motor integrated in the frame's downtube. This e-bike travels with ease on its Mavic Aksium Elite wheels, shod with WTB Riddler tyres for maximum grip and stability on all type of roads and paths.
COLNAGO EGRV DISC GRAVEL E-BIKE 2020 Review
We have had the pleasure us using the Colnago EGRV Disc Gravel Electric Bike for this review and found it a awesome light weight e-Bike worthy of a real look for those who want fast road trips with the added boost of the pedal assistance.
The Colnago EGRV Disc Gravel Electric Bike got us thinking. There are loads of great bikes to choose from when it comes to road, cyclocross, adventure bikes and gravel riding/racing. But when it comes to e-bikes there is only one choice in our opinion if you want power, speed and comfort – The Colnago EGRV Disc Gravel Electric Bike that we bought for this review in the UK.
The ​COLNAGO EGRV DISC GRAVEL E-BIKE ​is one of the best performing electric bikes we have tested in a long time. It is very close to a high end electric bike that offers a nearly silent ride with its integrated battery and motor, but at a fraction of the price.  This bike is a joy to ride and offers a run time of 50 miles on a charge which is more than many electric bikes offer.