EELO has been making eelo bicycles for the last 10 years, manufacturing high quality  Road Bikes. Starting out with just 2 models at their peak, eelo now offers dozens of different frames and complete bike choices all at great value for money.






 The eelo 1885 pro is our top of the range folding electric bike. Whether you work in an office, commute or just like to ride, this is a practical and fun bike that is perfect for any situation, from paved paths and roads to gravel tracks and mountain paths.
It offers efficient, powerful assistance at three levels as well as eco mode when you need it most.
With its lightweight aluminium frame, it folds quickly in 3 steps and can be stored easily on public transport and in

Features:
Foldable in 3 steps.
7 speed Shimano gears.
Front and rear disk brakes.
Aluminium 24spoke wheels.
Handlebar height 80-103cm.
Seat ride height 70
EELO 1885 PRO Folding Electric Bike Queens Award Winner
EELO has been chosen as a finalist and an award winner in the Queens Award for Enterprise 2018. EELO is an electric folding bike designed and manufactured by Bikko – a British company based in Loughborough, Leicestershire.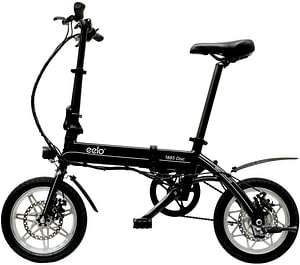 EELO 1885 PRO Folding Electric Bike is honored to have won Queens Award and that means this exceptional electric bike is certified as the best and it's our pleasure to present it to you. EELO 1885 PRO Folding Electric Bike is a dream bike of every cyclist in the world and that too very affordable price. This amazing folding electric bike has proven itself as the best selling product and it also rated as the 5 star product from Make Great.
EELO 1885 PRO Electric Bike Specifications:
WEIGHT: 16.6kgs (Including Battery)
RANGE: 40 Miles
ELECTRIC/THROTTLE ONLY RANGE: 8-10 Miles average (Kick start so road legal)
MECHANICAL WARRANTY: 3 Year Parts and Labour
ELECTRICAL WARRANTY: 2 Year Parts and Labour (Including Battery)
HANDLEBAR RIDE HEIGHT: 80-103cm
SEAT RIDE HEIGHT: 70-98cm
FOLDED DIMENSIONS: W 37cm x L 61cm x H 59cm
TOP SPEED: 15.4mph* (Road Legal Max)
MOTOR / POWER: Custom Rear Hub Motor / 250W
BATTERY TYPE: Lithium-Ion LG
BATTERY SPECS: 36v 7.8Ah 280.8Wh/36v
CHARGE TIME: 4.5hrs/5.5hrs
DISPLAY: Backlit LCD with controls
COMPUTER: Custom with modifiable assist and speed mode
READOUTS: Distance travelled, current velocity (mph or kph), battery monitor and assist level
PEDAL ASSIST: 3 Levels
FRAME: Full aluminium foldable in 3 steps with foldable pedals
FORK: Custom aluminium
BRAKES: Tektro Disk Brakes
TYRES: Kenda All Weather Black 14*1.75/44/254
ROAD LEGAL: Worldwide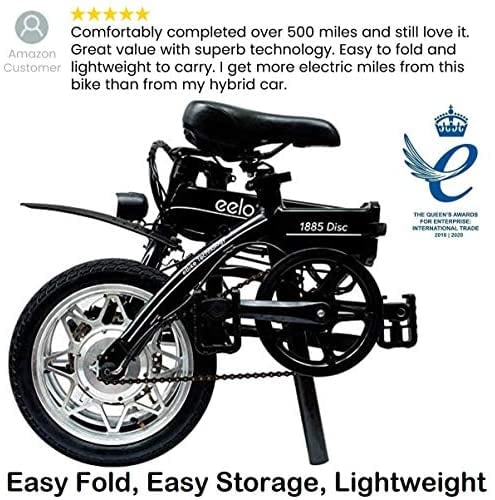 EELO 1885 Electric Bike Review Overview:
Hi there, my name is Jamie and in this post I will be reviewing the EELO 1885 Electric Bike. This electric bike costs about £1300 and after paying for it I have had a number of positive and negative things happen to me. In this review, I will share with you my experiences I've had with this electric bike.
When my friend told me that he was looking at buying an EELO 1885 electric bike, I immediately started researching it. I thought it would be fun to write a comprehensive review online. Here you'll find everything you need to know about the 1885 for all potential buyers and even for those who already own one. You'll be taken through the design, features, hardware, price, advantages and disadvantages of this great ebike.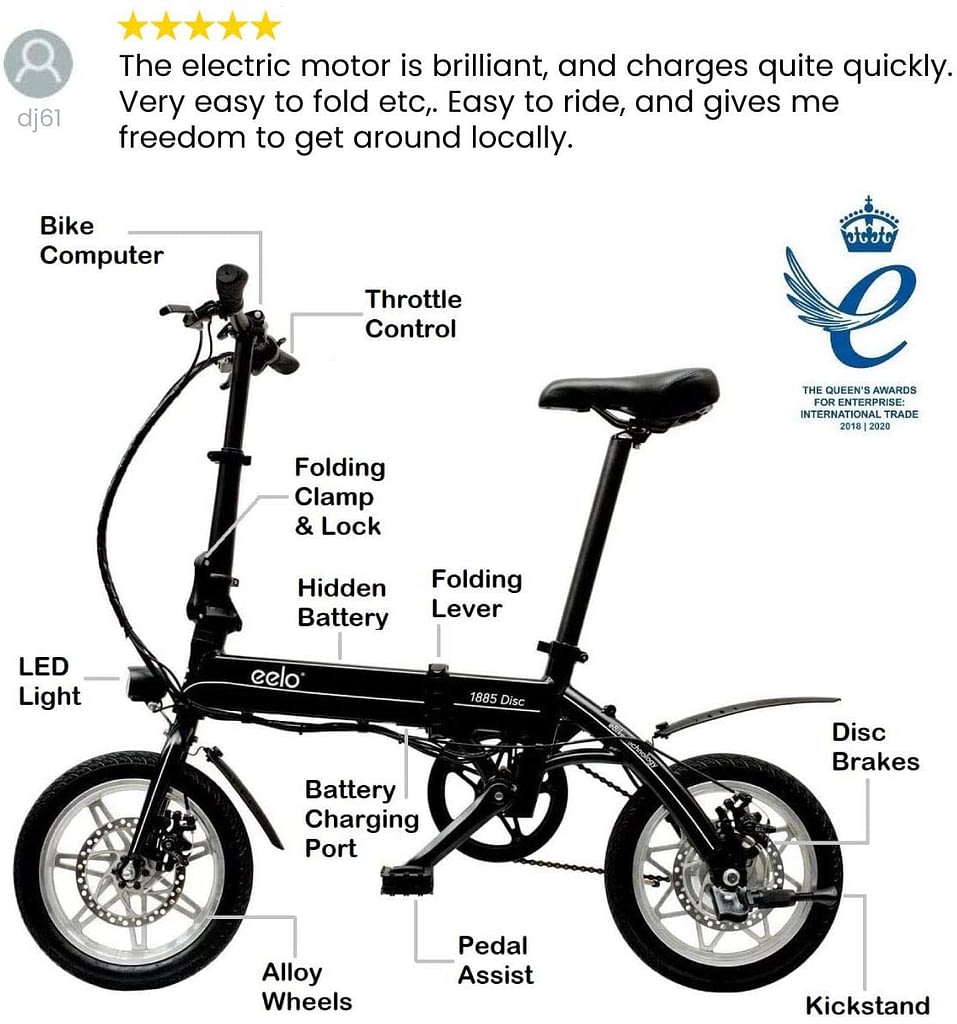 When it comes to electric bikes or eBikes, the EELO 1885 is definitely one of the best ones you can buy. People who like to cycle but who don't enjoy the strenuous activity will love this bike. Another great option is if you are a senior citizen and you want to cycle but due to your health can't go uphill or cycle for long distances, this bike will be perfect for you.
When searching for an electric bike, it is probably the design that appeals to you the most. However, it's important to look beyond the exterior because all these features affect how the bike performs and its durability. One thing I want to touch on is the inclusion of a hidden battery build. It's clear that this EELO model has put a lot of thought and care into their ebike line and it shows in this model.