The 26" HYPER MTB Electric Bike features a high-strength aluminum alloy frame, front suspension and disc brakes. The battery charge time is four hours and when fully charged this E-Bike will give you a distance of 20 miles or one hour of electric pedal assisted riding time.
This Hyper MTB e-bike features a high-strength aluminum alloy frame, front suspension and disc brakes. The powerful 36V 7Ah lithium ion battery allows you to travel up to 20 miles or one hour of electric pedal assisting. Excellent on hills, the front suspension fork helps keep you in control going down the hill.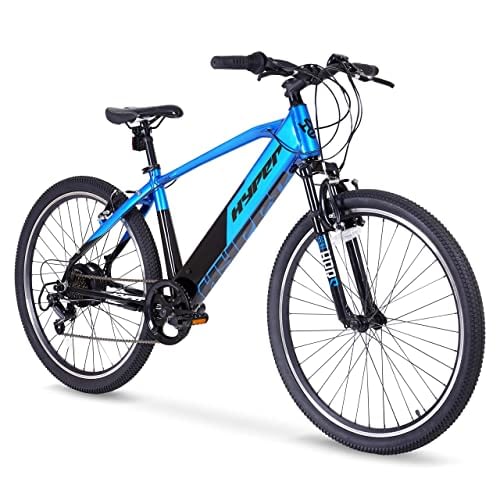 This Hyper electric mountain bike was made for those who want maximum comfort and speed. This electric bike provides reliable long-distance performance with a high-strength aluminum alloy frame, battery range of 20 miles or one hour of electric pedal assisted riding time and always being prepared with off road able tires and front suspension.
HYPER MTB E-Bike Specs
Here we look at the specs for the Hyper electric mountain bike with front suspension, 6 speed gears and more. Here are some specs and information on the bike and what it looks like, materials etc.
Bicycle Type: Electric Mountain Bike
Brand: HYPER
Manufacturer: Hyper Bicycles
Manufacturer Reference: HUK-E26-7700
Age Range: 16yrs – Adult
Gear Speeds: 6
Gear Type: Shimano TY21
Brake Type: V brakes Front & Rear
Motor Type & Power: 250W Rear Hub Motor
Frame Material: Aluminium
Sex: Unisex
Wheel Size: 26″
Frame Colour: Black & Blue
Delivered Package Size: 139 x 77 x 24 cm; 24.5 Kg
Suspension: Front Suspension
Seat Type: Stitched Race Style Seat
Battery Power: 36V 7.8Ah
Battery Type: Lithium Ion
Tires: KT-X17C
ASIN: B09KH87GFY
Review Overview of the HYPER MTB Electric Bike
We review superior mountain bikes that can handle the elements. HYPER MTB E-bike combines high-end components with a rugged design to take you where most other cheap electric mountain bikes can't. It features a custom suspension frame geometry with unique two-tone paint finish and Water Slide Decals. Bright, blue LED headlights come standard on this e-bike and also feature a reflective logo to help keep you visible at night. Front and Rear Alloy V Brakes come standard on this model. We thoughtfully pack all our models with features such as front and rear alloy V brakes, Shimano XT derailleur gearing and a battery that can travel 20 miles or more with its integrated 36V 7.8Ah Battery for reliable performance no matter how hard you ride. Plus, we throw in a free carrying case for easy transportation. @@@@@ Hyper Custom Alloy Frame Geometry with unique two-tone paint finish and Water Slide Decals
The HYPER MTB Electric Mountain Bike has a powerful 250W rear hub motor with an integrated 36V 7.8Ah battery. This motor powers the 250W Rear Hub Motor for up to 20 miles at a maximum speed of 15.5MPH. The HYPER MTB is equipped with Shimano TY21 6 Speed Gearing for smooth gear changes, as well as Zoom Alloy Handlebar and A-Head Stem for added comfort, Embossed and Stitched Snafu Saddle mounted on a Zoom Alloy Seat Post and Clamp, with front and rear alloy v Brakes for stopping power. Wheels are 700C 26 inch x 2.0 inch (width/ thickness/length) Tubeless Tubeless Ready 29 inch x 2.2 in 29in (15cm x 5cm 5cm (DIA 16mmr) Folding Steel Frame w/ Double-Wall 26″ Swing Arm Tube Upright 2 Wheels Formula alloy (Frame Material: 6061-T6 Aluminum; Cast Aluminium Rim / Tires: KT-X17C).
Pros's of the HYPER MTB Electric Bike:
Light Weight: Suprisingly light for a bike this size with a motor
Well Priced: For the price you get a lot of bike, not a bad starter electric MTB
Looks: The Hyper MTB is sleek looking with a discreet motor making it a good looking bike.
Con's of the Hyper MTB Electric Bike
Brakes: This bike comes with V Brakes, which are not spongy and they are effective but disc breaks would have been nice.
Size: Although light this is a large bike, for the 5.9″ rider and up, not for the shorter of us.
Result:
From mountain biking to commuting, this sleek electric bike can carry you to your destination with ease. Its integrated 36v 7.8Ah battery offers up to 20 miles of pure, fun transportation on a single charge, while the 250w rear hub motor ensures quick acceleration and smooth pedaling without sacrificing pedal torque. With custom 2-tone paintwork and a matching custom water slide decals, the Hyper Electric Mountain Bike checks all the right boxes for any stylish rider.